How to Cook Delicious Sig's Pixie Bottoms on Garlic Butter Yoghurt.
Sig's Pixie Bottoms on Garlic Butter Yoghurt.. Preparation Mash garlic to a paste with salt using a mortar and pestle (or mince and mash with a heavy knife). Stir together garlic, yogurt, and a couple pinches of salt on a plate until mixed. Spread to cover most of bottom of plate.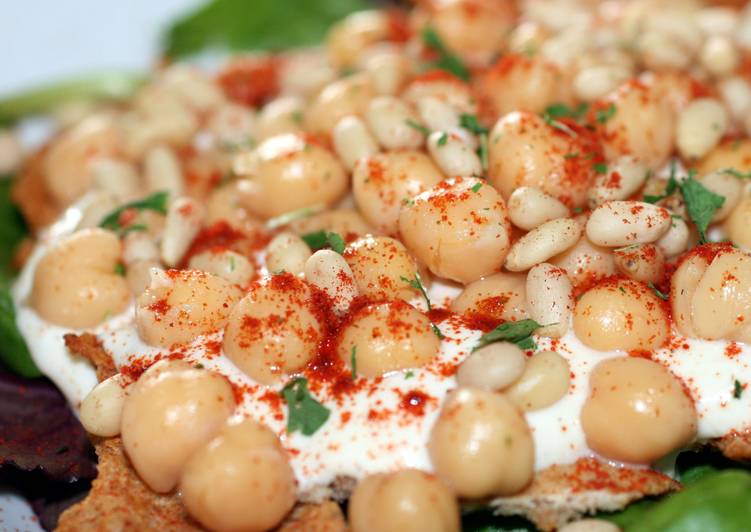 It makes an excellent alternative to mayonnaise. Bring to a simmer and remove from heat. In a medium bowl, whisk the saffron and egg. Çam Kozalağı İle Yoğurt Mayalama. You can have Sig's Pixie Bottoms on Garlic Butter Yoghurt. using 12 ingredients and 8 steps. Here is how you cook it.
Ingredients of Sig's Pixie Bottoms on Garlic Butter Yoghurt.
Prepare 2 tbsp of salted butter.
You need 3 clove of garlic, peeled and crushed.
You need 1 tsp of sea salt.
Prepare 1 tbsp of dried mint for butter.
You need 400 ml of greek style yoghurt.
Prepare 200 ml of milk.
It's 1 tsp of paprika, I use smoked, for milk.
It's 4 of pitta pockets.
It's 500 grams of chickpeas (pixie bottoms , garbanzo beans ) rinsed and drained.
Prepare 3 tbsp of pine nuts.
You need 1 tbsp of dried mint for garnish.
Prepare 1 tbsp of paprika for garnishing.
Natural Herbs, Turkish Recipes, Herbal Medicine, Yogurt, Helpful Hints, Herbalism, Food And Drink, Salsa, Cooking. Recipe Mix, Breakfast Items, Turkish Recipes, Food Presentation, Healthy Snacks For Kids, Kefir, Perfect Food, Creative Food, Food Design. This savory Dutch baby, topped with saucy garlicky mushrooms, is an easy and impressive vegetarian dinner. I like to top slices with extra Parmesan, more fresh herbs, and a dollop of yogurt or crème fraîche.
Sig's Pixie Bottoms on Garlic Butter Yoghurt. instructions
Drain your yoghurt of the liquid by pouring into.a cloth or a fine sieve whilst preparing the garlic butter. Preheat the oven to 190 C /375 f /gas 5.
Heat butter in pan and fry the garlic with salt and mint until lightly.browned..
transfer garlic and mint butter into a bowl , mix with the strained yoghurt..
dissolve the paprika for the milk in milk in a large bowl. Soak the pitta for about 30 seconds in the milk..
toast in oven until brown .Break into bite sized pieces..
arrange the bread over some lettuce or on its own on a serving dish.
Pour the garlic butter yoghurt over , top with pixie bottoms and sprinkle with pine nuts, dried mint and paprika to garnish..
serve immediately.
You're welcome to mix whatever you want into this dough (like GARLIC!) or brush it with butter and season with garlic, cilantro, cumin, etc. We did not have yeast, so this was perfect. We also did not have milk haha sooo we went with the yogurt idea. Yogurt is one of our favorite weekday breakfasts. It's fast, it's healthy, and it's filling.